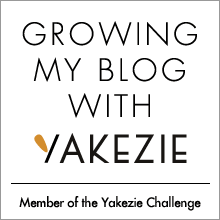 Tomorrow it will be 3 months since I have joined the Yakezie challenge, putting me halfway through my six month journey to get my Alexa rating below 200,000.  How am I doing?
Rank when I started:  2,532,778
Rank today:  373,951
Only 174,951 to go!
As the numbers get lower, the going gets harder.  But here are some things I've done to take over 2,000,000 off my ranking:
Joined networks.  Yakezie obviously.  Everyone there is fantastic.  I also joined Bloggy Moms where I'm meeting a lot of great bloggers like More Than Mommies.  Some of them are even local to me!  I also listed my blog in the BlogHer Directory.
Submitted to blog carnivals.  Honestly, I could/should do this more.  I've only done four or five.
Joined linky parties!  I feel like I've been doing this an appropriate amount.  One of my favorites that I recently discovered is The Frugal Tuesday Tip Linky Party at JulieCache.  I enjoy reading  a bunch of new, great blogs by participating in these events.
Commented on all those great blogs I've discovered.  I feel like I've been doing this a lot.  I know others do it more, but I honestly don't know how much more I could read without losing my non-virtual life.  I enjoy it and wish I had more time to do it, but for now I'm doing as much as I can.  I comment on everything I read.
Made a facebook page.  I need to get more people to "like" it, but it's always updated with the blogs current posts plus some extra goodies/savings I find.  A step in the right direction!
Added the "You May Also Like…" widget at the bottom of every post.  If you haven't done this, I highly recommend it.  More people are checking out more posts and spending more time on here because they know what else is available…not just what's available today.
Other things I'd like to do to get my ranking down over the next three months:
Google pagerank…SEO…it's all gibberish to me, but I'd like to learn more about it so I can improve!
Does anyone wiser and more experienced than me have any advice they'd like to share?  Does anyone out there want some help that I may be able to offer?