Those of you following the Around the World in 80 Books Challenge know that it is possible to read on a crazy tight budget. Saving money on books isn't the only thing to be concerned with, though. Reading enriches our lives by expanding our viewpoints and challenging our beliefs. It helps us learn academically and empathetically.
My good friend Meredith runs a monthly virtual book club, and every year I partner with her and a bunch of other fab bloggers by compiling a kick-off to summer book list, including why we think you'll love each tome.
In addition to sharing our picks, we celebrate the start of summer reading in a big way–with a fantastic giveaway for a $250 Amazon gift card and SEVEN free books! So tune in below for the 20 Best Summer Books List and then make sure to enter the Rafflecopter at the end for your chance to score big. And this year we have a fun bonus–WE ARE GIVING AWAY 100 COPIES OF THE BOOK CLUB'S TOP ALL-TIME PICK, too!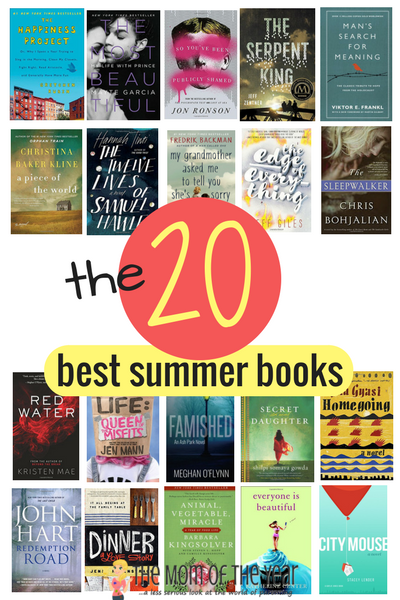 20 Best Summer Books:
Man's Search for Meaning by Viktor Frankl. Femme Frugality: "Psychology, philosophy and theology have a way of blending together. In this book, psychologist Viktor Frankl relates his experiences as a prisoner in Hitler's concentration camps, using it as a way to underpin his philosophy that man can get through anything if he assigns meaning to life. Great for anyone going through a difficult time, or anyone who has detached from organized religion but is still seeking the meaning of life."
The Happiness Project by Gretchen Rubin. Lindsay of See Mom Click: "If you've ever felt like the days are slipping by and you're just trudging along, The Happiness Project is a must-read. Rubin's writing really speaks to me, the perfect balance of hard facts and science combined with practical wisdom about proactively making yourself happier and living in the now."
Animal, Vegetable, Miracle: A Year of Food Life by Barbara Kingsolver. Wendy of ABCs and Garden Peas: "An inspiring, food-filled story of the Kingsolver family's adventure as they move to a farm in southern Appalachia and begin living their lives in a way that works with the local food chain. This year's 10th Anniversary Edition also gives readers a glimpse into how their family has carried their inspiring "real food" journey with them throughout the next decade.

A Piece of the World by Christina Baker Kline.

Mikaela Fleisher of

Iris and Honey

: "Christina Baker Kline brings an artist and his muse to life in this novel that blends fact and fiction. Based on Andrew Wyeth's painting,

Christina's World

, Kline gives readers a truly beautiful glimpse into the life of the woman behind the painting.

Red Water by Kristen Mae. Kristen Mae of Abandoning Pretense: "An Amazon best seller, Red Water will slither under your skin and stick there. Erotic, raw, and disturbing, and with deeply flawed but relatable characters, Mae's sophomore novel is a dark, unflinching examination of the psychology of self-loathing and the secret, unspeakable lust for depravity that lies dormant within us all."
My Lame Life: Queen of the Misfits by Jen Mann. Jen Mann of People I Want to Punch in the Throat: "My Lame Life is a great summer read for teens and adults because it's a funny and endearing book that is entirely relatable!"
Famished by Meghan O'Flynn. Meghan O'Flynn: "Famished is a bestselling psychological thriller that explores the darkest parts of the human psyche. Hailed as "Thrilling, emotional and depraved," this novel is one you won't want to put down."
Dinner: A Love Story by Jenny Rosenstrach. Stephanie of When Crazy Meets Exhaustion: "While not a new publication, Jenny is every one of us: frazzled Mama juggling parenthood and work. When she realizes a family meal is the best shot at quality time with her husband and kids, so begins her journey to make it happen. It's part cookbook (fabulous, EASY recipes) and part narrative. Witty, relate-able, and educational (I learned how to cook things, you guys!) I was went through Jenny-withdrawal when I finished the book!"
So You've Been Publicly Shamed by Jon Ronson. Shari of Adore Them pick: "Jon Ronson is an incredible author who combines objective observations with his own take on these experiences. For this book he spent years meeting people who had been subject to public shaming. It is fascinating (& horrible) to see how one tweet could ruin someone's life."

The Serpent King by Jeff Zentner. Kim Bongiorno of Let Me Start By Saying: "The story is told in alternating voices of three best friends as they begin their senior year: one knowing she is OUTTA THERE, one being OK with staying exactly where he is because he has his stories to escape into, and one not feeling like he can or is deserving of going anywhere but right where his father's crimes put him. I felt so many things while I read this, but mostly that I will now read literally anything this author writes from now on."

The Most Beautiful by Mayte Garcia. Suzanne of Toulouse & Tonic: "I devoured this book about Prince by his ex-wife Mayte Garcia. At first I was afraid it would be exploitive but after reading reviews carefully, I gave it a try. It was so worth it. A great portion of the book is the story of HER life. It's interesting and insightful. The parts of her life she shared with Prince are handled in a respectful but honest way. I feel like I actually know something about this enigmatic man now. I still miss him but 4 me, it brought a little peace."

Redemption Road by John Hart.

Lydia of

Cluttered Genius

: "

Redemption Road

caught me from page one and had me guessing the entire way through. I don't generally choose murder mysteries or thrillers, but Hart's novel has me wanting to find the rest of his books to read more!"

Everyone is Beautiful by Katherine Center. Natalie of a Turtle's Life for Me: "Everyone is Beautiful is a heartwarming and humorous look at one woman's journey through marriage and motherhood as she tries to find small moments of personal fulfillment. The epiphanies and insights she gains along the way are told in a light-hearted manner, but resonate deeply in a way that will have you thinking about it months later. I read this with my book club and we found we were bringing it up again even a year later, because it struck such a deep chord with us."

Secret Daughter by Shilpi Somaya Gowda.

Dani of

Meraki Lane

: "I loved this book. It explores so many emotionally sensitive topics – infertility, adoption, motherhood, and interracial marriage – and the author did such an amazing job of jumping back and forth between the United States and India. She described each with such vivid detail, and the story truly encapsulated the meaning of the word 'family.' It was an easy, yet complex read, and the ending brought me to tears. I highly recommend this one!"

The Twelves Lives of Samuel Hawley by Hannah Tinti.

Jana of

Jana Says

: "I LOVED this book. Dark and twisted and violent and a thriller complimented with a father/daughter/coming of age story told between alternating POV and bouncing back and forth in time until it all catches up to itself. It's so well done and well written and I cannot recommend it enough."

Homegoing by Yaa Gyasi.

Kimberly of

Red Shutters

: "It's the story of a family, torn apart by slavery. One branch of the family aids in the slave trade in Ghana, later becoming involved in conflict with the British, and finally finding their way to America. The other side of the family is sold into slavery and generations later experience an America of incarceration, poverty, and drug abuse. Despite its challenging subject matter,

Homegoing

is captivating, an extraordinary story about hope, connection, and loss. I couldn't put it down, and when it did end, I was disappointed–I wanted more. That's the sign of an extraordinary book!"

The Edge of Everything by Jeff Giles.

Janine of

Confessions of a Mommyaholic

: "This is the beginning of a supernatural, romance YA series that struck all the right notes for me. Honestly, think it could be in the leagues of Twilight or even Harry Potter as the writing was superb. Plus, the storyline was unique, fast moving and heart tugging, as well. Therefore, recommend as the perfect summer vacation read."

The Sleepwalker by Chris Bohjalian. Rabia of The Lieber Family: "Lianna's mom has disappeared. The most plausible explanation is that her frequent sleepwalking took her over a bridge to her death. But on closer inspection, that doesn't really make a lot of sense. And the good looking detective assigned to the case is trying to help, isn't he? So what really happened? I can't wait to find out!"
My Grandmother Asked Me to Tell You She's Sorry by Fredrik Backman. Anne of Once Upon a Mom: "I haven't read this one yet but it looks amazing! It's a story about a quirky kid with an even quirkier grandma who, after her death, leaves a a series of letters apologizing to people. I'm looking forward to finding out about all of Grandmother's secrets!"
City Mouse by Stacey Lender. Carrie of Normal Level of Crazy and Meredith of The Mom of the Year: "This defines a beach read for me! So relatable to our own lives as it is all about mom trying to find out exactly where she fits in the in the scheme of suburbia–all that goes along with it. Plus, when a book is described as 'The Stepford Wives meets Bad Moms', how can you go wrong?"
***********************************************************************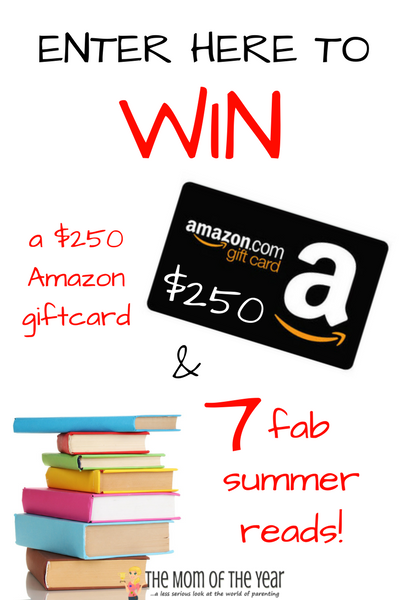 And that's it, friends! Our list of the 20 Best Summer Books you need to kick back with during all the sun-soaked days ahead of us! As promised, the giveaway for a $250 AMAZON GIFT CARD and copies of some of the titles on this list (Red Water, Famished, My Lame Life: Queen of the Misfits, The Sleepwalker, Homegoing and Redemption Road) is below!
UPDATE: BONUS! You'll also win a copy of my fave: Man's Search for Meaning!
No better way to keep your reading stash well stocked and you can use the gift card to grab some other titles that are on your own wish list. Sweet!
As long as you are 18 or older, live in the continental United States, and enter before June 16, 2017 at 5:30am EST, you are eligible to win!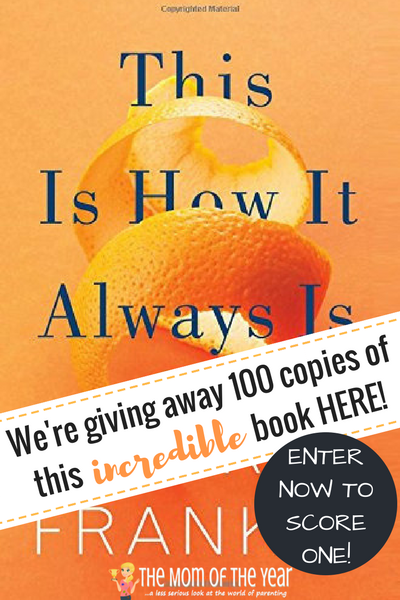 Also as promised, we are tickled to be giving away 100 COPIES of the favorite title our book club has ever read, This is How It Always Is by Laurie Frankel! Read the whole post HERE to find out why it is such an exceptional book, and then hop over quickly to enter the giveaway! Thanks to the generosity of Flatiron Books, copies will be sent to the first 100 people who enter the giveaway* (The grand prize winner included! The same giveaway deadline and rules as above apply.) We could go on and on about This Is How It Always Is, but to put it simply: it is important, life-changing, and beautiful. This isn't just a book you want to read, it's a book you need to read.
*Note: remember each person can gain multiple entries, so don't assume that all 100 copies have been claimed when the entries total goes over 100! Meredith will be updating on social media how many copies are left if you want to check in on this as the giveaway progresses!
***********************************************************************
Thanks for joining us in this kick-off to summer reading celebration with this list of the 20 best summer books! Happy summer and happy reading, friends!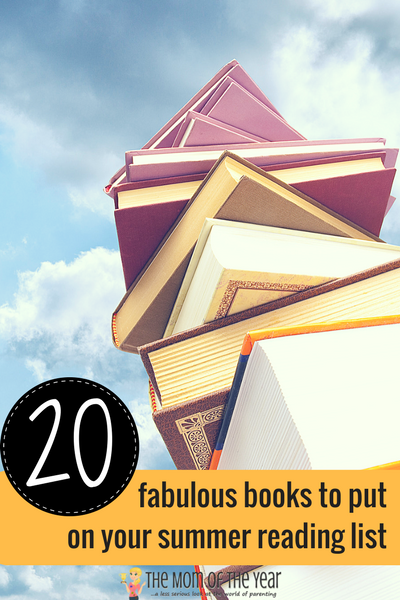 ***********************************************************************
***Thank you to Flatiron Books, Jen Mann, Kristen Mae, Meghan O'Flynn, Macmillan Publishers, Anchor Books, and Vintage Books for providing copies of the books for the giveaway. All opinions are entirely our own.***
Book photo in second graphic: depositphotos.com, Image ID:9056658, Copyright:belchonock
Last image credit: depositphotos.com, Image ID:13362963, Copyright:coolfonk