In our house, we do nothing traditionally. From college to kids, we've found a way to do just about everything in a way that deviates from the norm. It should be no surprise, then, that when it comes to gift giving, we tend to lean towards quirky gifts.
As I'm putting together my own last-minute holiday shopping, I thought I'd put together a holiday shopping guide for you all, too.  Some of these are good for a lower budget. Some of them are on sale. And some of them are just plain awesome and worth the extra cash in my experience. (Don't worry…I've got you covered with deals on the more expensive pieces.)
Quirky Gifts Worth the Spend
Jord Wood Watches
My husband got his gift early this year, mostly because when you ask someone to measure their wrist, they get suspicious.
Jord makes these beautiful wood watches that have really struck a cord in our family. They're gorgeous, well-made, and different, but they're also sustainable. A majority of the wood used in their products is repurposed; largely, they save the remnants left on the floors of furniture and wood floor factories. Their bamboo and maple models do come straight from nature, but are sustainably harvested.
The husband got one of their new series watches, the 94A in Dark Sandalwood. It's gorgeous. It's conditioned with natural tung oil, and nothing else, and SHINES. He was a little concerned about the size of the face when we first took it out of its box, but as soon as he put it on, he commented on how light it was compared to the metal watches he's worn before. So he gets to have the bold face, and still be comfortable.
Pricing on my favorites:
Men's: Jord 94A Dark Sandalwood*– $159
Women's: Jord Cora Zebrawood & Turqoise*– $275
Unisex: Jord Fieldcrest Dark Sandalwood*- which we previously reviewed-$129

There are so many options across such a wide range of budgets. These aren't your $20 stocking stuffers, but everyone in our family who has one agrees that they're well-worth the price. To help you out a little bit, the first 100 people to use code 314Femme25 get $25 off their purchase*.
Want it by Christmas?
Order by December 20.
AncestryDNA
How cool is it that we live in a day and age where we can spit in a tube and find out where our ancestors were from? We thought it was pretty cool when it revealed that my kids are not, in fact, Native American, despite the family stories. Here's how the results came back:
We thought it was cool enough that we gifted it for another branch of the family last Christmas, and rediscovered the ethnicity of a line we had zero records for. Sheila and her twin tried it, and got different results from one another. I'm so glad she left that story in the comments.
Price:
Normally, it retails for $99. Right now you can get it for 10% off until December 21* making it only $89, OR free shipping on the Ancestry DNA Kit using code: FREESHIPDNA
*.
Want it by Christmas?
Order by December 16 if you're using standard shipping.
Order by December 21 if you're using expedited shipping.
Quirky Gifts Under $40
Recipe Cocktail Shaker

Have an aspiring bartender in  your family? We do! And this is way cheaper than bartending school. Sur La Table's recipe cocktail shaker tells you how to properly mix a Mojito, Cosmopolitan, Kamikaze, Tequila Sunrise, Long Island Iced Tea, Margarita, and Gin Martini complete with measurement markings.
 Price
$20 at Sur La Table*

Want it by Christmas?
Smart to order by December 18th if you're going with standard shipping.
Slothzilla Shower Curtain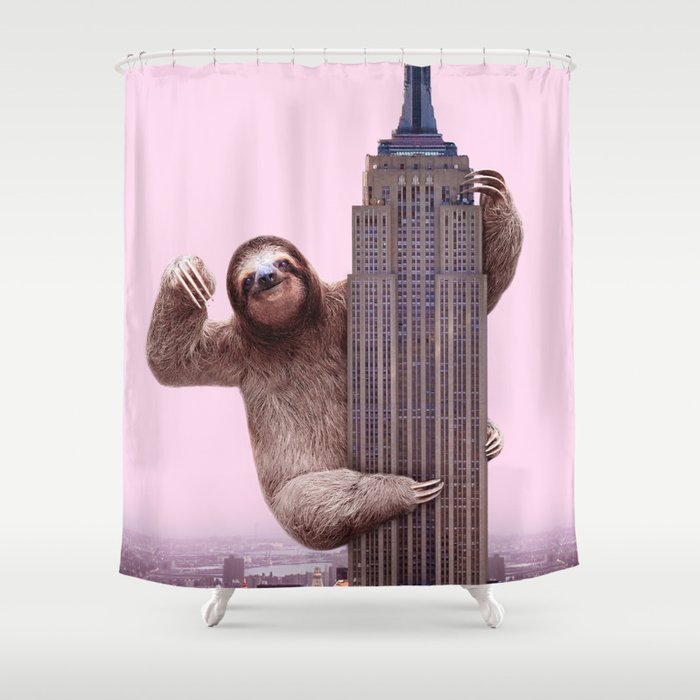 Because how could I make a quirky gifts list without including this? I have no idea how King Sloth would even work; the scariest part may be when he fell asleep!
Society6 has all kinds of crazy animal art on shirts, home goods, and phone cases, on top of straight prints.
Price?
The King Sloth Shower Curtain goes for $69.99. But you right now it's 25% off, so really it's $52.49.
Hungry Pelican
Melissa & Doug are pros at making toys my kids love. Who else is making feedable pelicans that stand at a little over a foot tall? I could go on about the developmental skills little ones learn with this one (auditory, pretend play, prediction skills, categorization…) but the primary one is motor skills, as they feed this plush little guy food in his squeakable beak, and then pull it out of his belly.
Price
$24.99 at Melissa and Doug
*
Want it by Christmas?
Smart to order by December 18th if you're going with standard shipping.
Favorite Cookie Cutters
I love Sur La Table's cookie cutters. Partially because they go beyond Christmas. We have a ballerina, a menorah, and a shamrock for good measure. They also have
the letters of the alphabet*
, so you can have your kids spell out their names as they are helping you with the cookies.
My favorite part?
The Price!
$1.25—That's it! And take your pick*
to which ones you want.
Want it by Christmas?
Smart to order by December 18th if you're going with standard shipping.
Fresh Take Leggings
Remember when people started wearing leggings as pants, and that in and of itself drew attention, even if they were straight black?
Now we have so many options! And I love these ones from Mod Cloth. Star Wars, green galaxies, and pink universes. I'm not excited for that movie coming out on the 14th or anything...
Prices
Fashionable Fandom Leggings*-$39.99
Fresh Take Leggings in Galaxy*- $24.99
Fresh Take Leggings in Pink Universe*- $24.99
Want it by Christmas?
Then it depends on how much you want to pay. The cheapest shipping option of the four will get you your stuff if you order by December 16th, and the most expensive will get it to you if your order's in by December 22nd.

Side note: Nobody should ever spend this much on shoes, but.....look! The mere fact that they exist makes me happy:
Anyone care to comment on the Freudian implications of me putting mom's gifts last? Would love to hear the quirky gifts on your list! (Genuine commenters only, please. Promoting something? Contact me on my about page.)
*I have received a Jord watch at no cost in order to write this post. Regardless, all opinions are 100% honest and 100% my own.*