Father's Day is just around the corner! And I've got a great roundup of Father's Day gifts for sports fans for you!
While it's good to celebrate Dad, buying gifts should always be done within your budget. I'm not encouraging you to be a cheapskate — if you can afford something very expensive that would add value to his life, go for it.
But if your budget is a little tighter, know that you're not alone and that you can still get the father in your life something he'll appreciate without draining your bank account.
Here's a Father's Day Gift Guide for some inspiration. Keeping in mind that budgets may be tight, everything is under $20. And everything is sports-themed.
MLB Watches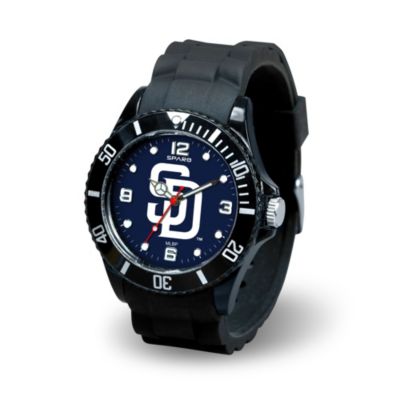 Price: $19.99 – $24.99, depending on team.
Where to get it: Bed Bath & Beyond
Our perception of time has undergone a wild makeover in 2020. Help Dad keep track with this affordable watch from Bed Bath & Beyond. Featured here is San Diego's watch, but you can pick his favorite team.
Michael Jordan Motivational Poster
Price: $5.72
Where to get it: TrayFivePrints
If you didn't spend five straight Sundays — including Mother's Day — watching The Last Dance, go back and binge watch it now.
We could all use a little bit of this particular Michael Jordan energy in our lives right now. A lot of our own weaknesses are exposed in this moment of uncertainty and strife. I'm not talking about physical or monetary status right now. That's mostly out of your control in the current climate.
But if we take this moment to reflect on our own characters, we can turn some of those flaws we have into strengths. Your money and your health can be taken from you. But your character cannot.
Father's Day Golf Tees
Price: $9.98
Where to get it: XcaliburInk
Golf is supposed to be the safest sport to engage in right now — if social distancing is properly practiced. If Dad is choosing to visit the links, these tees will make his day!
Hockey Stick BBQ Spatula & Bottle Opener
Price: $14.99
Where to get it: Requipd
Requipd is a cool Etsy shop that takes hockey sticks and turns them into tools — primarily for grilling out. With its hockey stick handle, this spatula also serves as a bottle opener.
Greatest Plays Mug
Price: $15.00
Where to get it: PlaybookProducts
These mugs feature the four best plays from MLB, NFL, NBA and NHL teams. You can also pick from soccer teams and many college sports teams. PlaybookProducts also has slate coasters, poster and iPhone cases featuring some of the best plays of all time.
Featured here is the play that gave the Steelers one for the other thumb in '09. Right before this play happened, I was sitting in a 'Steelers Nation' Bar packed full of Cardinals fans screaming at them bout our 4th quarter stats. I knew we had it, even though we were down.
AND WE DID.
I'm obsessed with Pittsburgh sports. But it's really just an example. Whoever your team is, PlaybookProducts has a coaster set that features their best.